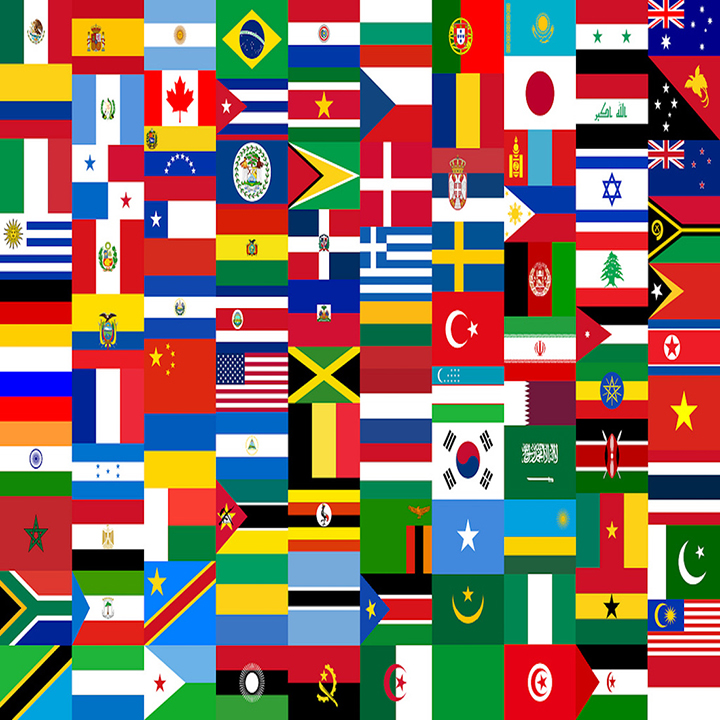 In the nineties, when I began my teaching career, I worked in a public high school whose World Language department celebrated National Foreign Language Week each year.  As the newbie in the department, I didn't really know what to expect during my first year celebration.  I imagined that the kids would spruce up our painfully drab building with bright, colorful posters and banners, and maybe we would talk about the importance of learning world languages more extensively during our classes.  How wrong I was!  I quickly learned that this was the one time during the year when the World Language department would hold the spotlight and really advocate for World Language education.
The planning process would usually commence a few months before the official week-long celebration in March and it would include teachers and students; particularly World Language teachers and students, Spanish Honor Society students and Spanish Club students.  Their first task: to embark on a letter writing campaign to invite friends, relatives and members of the community to spend a class period or two, addressing the student body about how they used world languages in their jobs and careers.
This activity was great because first, we usually had more volunteers than we could accommodate, and second, it connected the students with local community members who demonstrated real world applications of their World Language education.  Spanish and French classes were no longer viewed by students as just requirements for graduation to be satisfied. Instead, they witnessed languages as useful tools with which they could quite possibly earn a viable living.
The letter-writing campaign took the most time and effort compared to the rest of the preparations, which included: collaborating with the cafeteria staff to create an international lunch menu for the week; highlighting our bilingual students by having them write and deliver daily school announcements in various languages; generating articles for the school newspaper; and finally, designing posters and banners that would add much needed luster to our ancient lackluster school building.  In short, National Foreign Language Weeks were busy and buzzing, and they were well worth the labor we put into planning them.
Now, nearly two decades later, I find myself adopting new approaches to teaching and learning that reflect the thinking of an evolving world; a world who now lives in a new millennium.  So why not take the most important week of the year for World Languages and generate some activities that reflect twenty-first century thinking? Here are some of my ideas
1.  Email Campaign:  Let's tweak that writing campaign that my former high school students completed manually.   Instead, have them send emails or digital invitations to friends, family and community members inviting them to speak at school, video conference, or podcast about how they use languages in their jobs and careers.
2.  Short Movie Contest:  Students can be grouped together to create skits or short films that represent the current theme of National Foreign Language Week.  The skits and films can be presented in front of the student body during class periods, lunch periods, or assemblies.  In addition, the films can be uploaded to YouTube and forwarded to students via Facebook and Twitter.  Set up a polling page and have students, faculty and staff vote for the best film.  Finally, invite them to be critics and have school community members write film reviews to be shared by everyone.
3.  Twitter Trivia:  Every day post trivia questions that focus on current events, history, geography, or whatever your heart desires, as long as you connect students to world languages.  Offer prizes or extra class points in order to motivate students.
4.  International Cooking Party:  Designate a target language each day.  Students, faculty and staff choose a dish to prepare from any country where that language is spoken.  They can record videos, in the target language if possible, as they prepare their dishes, which can then be shared digitally.  As with the movie event mentioned above, set up a polling page and allow everyone to vote for their favorite dishes.  Invite volunteers to take on the role of food critic and have them write reviews, also to be shared.  And if you're really feeling ambitious, create an e-book of all the recipes used in this event and share them with as many people as you like.
5.  Compose a Song:  Students can write and perform songs that reflect the current theme of National Foreign Language Week.  These songs can be filmed and shared via various social networks that I already mentioned. Again, set up a poling page and invite everyone to vote for their favorite songs.
6. Learn to Dance:  This one is pretty simple.  Choose dances from various countries and have students learn the steps.  Don't worry if you have two left feet because you can find a plethora of dance lesson videos for just about any dance you can imagine on YouTube.  Better yet, use your student body.  Find students who represent different parts of the globe and invite them to teach their peers how to dance.  Take it a step further and create a dance competition that can be recorded and shared.
7. Videocast/Podcast Interviews:  This is a great way to highlight students, faculty and staff who come from different parts of the world.  Students can generate interview questions and conduct interviews as well as, invite people to tell the story of their personal journeys as they moved from their native country to the U.S.. Create a web page or blog where they can be uploaded and viewed by the school community.
8. Virtual Treasure Hunt:  Provide clues that represent famous people, places and things around the world.  Then, kickoff a school-wide contest whereby students attempt to identify them utilizing whatever digital  informational resources that they have available to them.
9. International Film Festival:  Create your own film festival for the entire week. Take each day to target a particular language or region of the world and feature a foreign film to represent it.  Show films during or after school, or both.  Invite students to write reviews to be shared digitally and then use those reviews as a springboard for classroom discussions about pertinent global issues.
10.  Debate:  Hold a classroom or school-wide debate about world issues that impact us all.  An obvious example would be to charge students with researching the pros and cons for  bilingualism in our country. Another idea can revolve around immigration issues or international political policy.  The possibilities are endless. Also, remember to record and share the debates.  It's a great way to connect students to real world issues, generate awareness and get them dialoguing.
Well, there you have them; ten ideas that you can use immediately or that you can tweak to fit the goals of your school community.  I hope that these ideas will be helpful to you in some way, especially if you're still scrambling around at the last minute trying to find fresh activities for your students.  By the way, this year's National Foreign Language Week runs from March 5th to March 11th, and the theme is You're Connected…Now Communicate!
Finally, remember to share with the EnLanguages community your celebration plans by leaving a comment below.  I would also love to hear from you if you use one of my ideas.  Let us know how it turns out.  Until next post, I wish you a happy and exciting National Foreign Language Week.