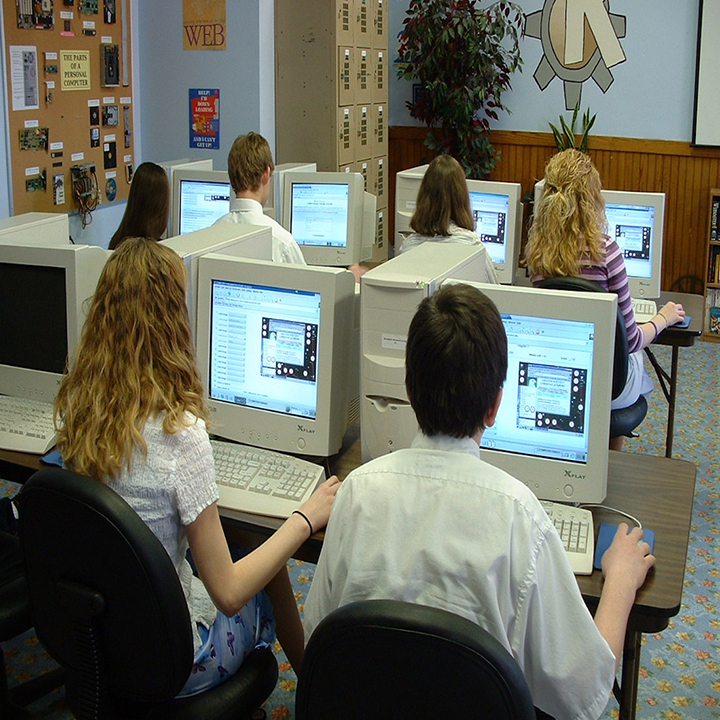 I think it's safe to say that most of us in the U.S. have heard the expression March Madness, but if you haven't, then imagine a month of utter craziness as sixteen NCAA basketball teams and their rowdy fans battle one another in order to clinch the championship title.  It is truly a time of unnerving, exasperating and exhausting excitement.
For me, however, March Madness has taken on a different meaning, ever since I began teaching middle school students five years ago; although I must admit that the emotional charge is quite similar to that of the NCAA playoffs.  It is a month packed with heightened stress and anxiety as myself and the other two language teachers prepare students to take the annual national foreign language exams in either Spanish, French or Latin.
Adding to the weight of the exam prep is the reality that the award recipients will participate in in our annual school awards ceremony that will be attended by the student body, their parents, faculty and staff.  Now, that may sound exciting, but when the ratio of medal winners for French and Latin far exceed the number for Spanish, as it happened to me for several years in a row, then standing up in front of a packed theater is not the most delightful feeling.
Being the competitive sort that I am, I was determined to discover why so few of my students were placing at the national level, and I wanted to know what I could do to improve their chances. What I discovered is that first and foremost, there are numerous variables that contribute to each student's outcome; some of which that can be controlled and some of which that cannot.
For starters, the exams for each language are not created equally.  The nature of each language somewhat drives its exam format. Take for example, Latin.  It is no longer a spoken language and therefore, it is probably safe to say that in a large portion of schools across the U.S., it is not being taught as such.  As a result, aural proficiency is not measured on the National Latin Exam.  Spanish and French, on the other hand, are communicative languages, and while oral proficiency is not measured on the National Spanish and French Exams, aural proficiency is.  In addition, The National French and Latin Exams are all multiple choice tests, while The National Spanish Exam is a mixture of multiple choice and fill-in the blank examples.  One missed accent mark can make the difference between a correct and incorrect answer.
Another factor that affects exam equality is the manner in which the exams are administered.  The National French and Latin Exams for example, are traditional paper-pencil tests, while The National Spanish Exam is a computer generated test.  This may not sound like a big deal, but when taking the computer generated exam, there are plenty of opportunities for error.
If, for example, a student inadvertently clicks incorrect information while completing the personal data section, then he/she is automatically disqualified from the exam.  This very scenario played out with one of my best students just last year.  What was most difficult about it is that she would have received an award based on her scores.
Additionally, when working with multiple choice questions that offer a drop-down menu from which to select answers, students must remember to not only choose the right answer, but to also click outside of the menu box so that the answer will "lock in," otherwise, the answer could change as the students scroll down the page completing other examples.
Lastly, there is a floating toolbar that follows students as they move from one example to the next.  It contains accented letters in both cases and punctuation marks.  When working with the fill-in-the-blanks section of the exam, students need to remember to include proper accents and punctuation or their answers will be marked incorrect.
Other variables which contribute to student outcome on these exams include class sizes; the number of students taking the exam; the amount of material that has been covered with students up until exam time; how much material the students have absorbed; the ability level of each student; how much students prepare independently using the exam preparation materials; whether or not students have an "off" day when they take the test; whether or not students had enough sleep the night before the exam; and the list goes on.
Because so many of these variables cannot be controlled by the instructor, we must focus on those that can be controlled.  I have therefore generated a list below of eight tips that may be helpful to you as you prepare your students for their national exams.
1.  Attend Information Workshops:  When I attended the ACTFL (American Council on the Teaching of Foreign Languages) conference in Boston two years ago, I dropped in on a workshop that focused on The National Spanish Exam. During the presentation, I learned something very important; I was prompting students to identify themselves incorrectly with regard to their previous experience in Spanish, thus putting them in a more difficult scoring bracket.
In addition, I was able to purchase a disk containing all of the vocabulary that could appear on the exam, as well as a list of the grammar elements for each level, so I did.  When I returned to school, I made packets for my students and used them in a variety of ways during our exam preparation classes.
Finally, teachers from all over the country attended this seminar and they posed thoughtful questions and shared insightful preparation ideas that are not found on the exam website.
2. Inform Students and Parents Early: On the very first day of school, as well as during parent-teacher night, after I introduced my class expectations and syllabus, I informed students and parents about The National Spanish Exam.  I also explained why they would be taking it and how it would benefit them.  Letting parents and students know early on about the exam gives it more validity and serious attention.
3. Model a Positive Attitude:  I find that when I really want to motivate my students, all I have to do is walk into my classroom with a smile, a positive attitude and enthusiasm.  Of course, there will always be students who will balk, but most kids will look at the exam as a positive challenge that could benefit them, rather than just another test to be taken.  I also find that this approach helps to keep stress levels down, as there are some students who become anxious whenever the word test is uttered.
4. Create Review Materials for Students: When I purchased the vocabulary disk at the National Spanish Exam workshop, I will admit that it was not as user-friendly as I had expected.  After some cutting and pasting I created a vocabulary packet for the exam as well as a checklist containing all of the grammar elements.  Please note that there is far too much vocabulary for students to memorize just for this exam, especially if your textbook does not cover much of it.  For example, the food unit in my textbook is not introduced in Level 01 Spanish, but rather in Level 1.  However, food vocabulary could be on the Level 01 exam.  I therefore, encourage students throughout the year to review the packet and to complete in-class and homework assignments related to the individual topics.
5. Use the Exam Website Resources Regularly: The National Spanish Exam website is very comprehensive.  I even use the website with students who are in our elementary Spanish language program, though they are not eligible to take the exam. There are games, flashcards, quizzes and tests that students can use to prepare themselves.  Fridays are lab days in my classes, and I incorporate these activities into my lesson plans.  For the most part, the kids enjoy working on them and they especially enjoy competing and collaborating with one another.
6. Prepare Daily the Month Before the Exam: This year I decided to use part or all of each class period to review for the exam. Activities could be as simple as choosing one of the vocabulary topics and reviewing its vocabulary, playing a game on The National Spanish Exam website using the grammar elements or taking a practice exam. The activities do not have to be elaborate, and you can certainly invent your own, but I think the NSE website is pretty comprehensive.
7. Take Practice Exams with Students: If you have a Smartboard in your classroom, then you can project the practice exams onto it and walk the class through each example.  I found this to be extremely helpful, especially for my weaker students.  As we tackle each example, I share with students test-taking strategies and tips for navigating material that contains lots of words or grammar that they have not yet learned.
8.  Share Award Percentiles with Students: Many of my students are competitive in nature and therefore, wanted to know which scores corresponded to each medal.  These kids were my goal oriented students who insisted that they have a benchmark to work toward.  If you have students like these, then providing this type of information will not only keep them engaged in the material, but they will be more aware of their progress as they self assess, resulting in higher achievement.
9.  Remind Students About Sleep and Nutrition:  Of course, as with any other standardized test, remind students to get to bed early and to eat a healthy breakfast on test day.  I also recommend that students abandon the test preparation the night before so their brain can also have a rest.
Take these tips and use them with your classes.  I am confident that they will be useful to students taking most any national foreign language exam.  Remember to share your results, as well as any other tips that you might have, in our comment section below.
On a final note, my anxiety has diminished as it is now the month of April and I have one more National Spanish Exam behind me. I think it is safe to say, Sayonara, March Madness!