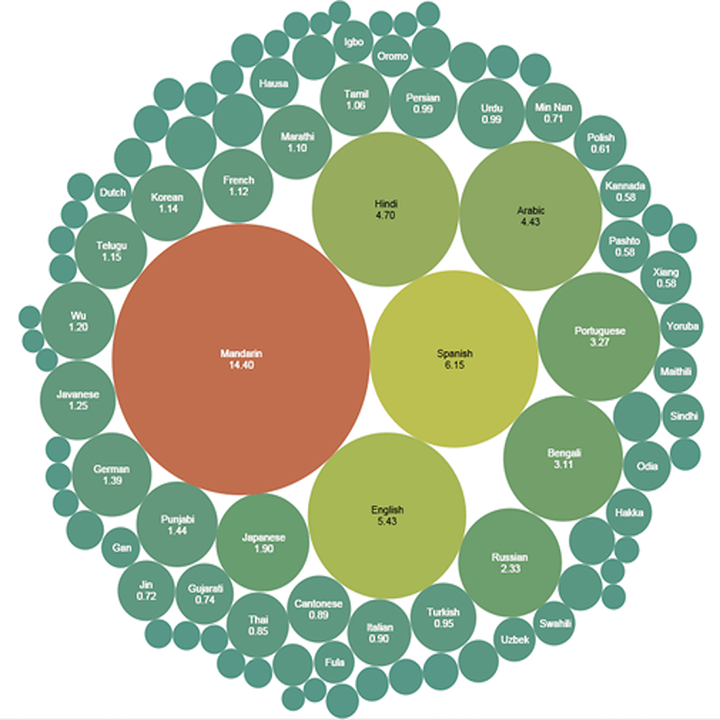 Last month, the public schools in Macon, Georgia made national headlines when their Superintendent, Romain Dallemand made a radical move and mandated that all students, Pre-K through 12th grade, take Mandarin Chinese.  He could have chosen a heritage language like Spanish, since the Latino population in Georgia has experienced a significant growth spurt over the last decade, or he could have chosen a number of other languages that would better complement and reinforce skills taught in English, since the Macon students are barely able to read and write it.  But he chose Chinese, a tonal language whose many dialects make it difficult to learn, nearly impossible to master and seemingly impractical for students who are struggling with their own language.  Why then, did he make this choice?
In his words, Superintendent Dallemand is preparing his students for "emerging economies," a notion which has been causing educators escalating anxiety about preparing students for the future.  The idea is that by the year 2050 China will become the next economic superpower and Chinese will become the next international language.  The media spin further perpetuates this idea by suggesting a world where knowing how to communicate in Chinese will be imperative to one's survival.
The truth is that China's emergence as an economic empire is speculative at best and highly unlikely when taking into consideration the numerous variables that would have to fall perfectly into place.  People tend to cloud the fact that China is struggling with a host of serious political, social and economical issues that, without resolution, will very likely prevent it from becoming the most powerful global entity.
Remember the 1980s?  A similar situation seized our nation as a surge of Japanese language programs popped up all over the U.S. due to Japan's rapidly growing economy.  As the second largest economy behind the U.S., a ranking which China currently occupies, competition between Japan and the United States increased and the sudden need for more Japanese speakers in America rose.
Japan's economy continued to soar throughout the decade, but in the early 1990s their stock market crashed and their blazing economy came to an abrupt halt.  More than a decade later, while Japan was still recovering from their economic fall, the United States watched their economic difficulties escalate in the aftermath of 9/11. As a result, school officials working with rapidly shrinking budgets shifted their thinking as well as their priorities.  No longer a threat to U.S. financial markets, the urge for Japanese language programs was no longer attractive and therefore, Japanese language instruction in this nation diminished.
The next language to sit beneath the U.S. spotlight was Arabic.  With a nation at war in the Middle East, whose end was nowhere in sight, American speakers of Arabic were in demand.  Schools and universities across the land responded by implementing Arabic programs.  However, as the war effort pressed onward and the U.S. economy worsened, the vigor of implementing these programs waned.  In fact, foreign language programs, in particular those which targeted elementary students and which emerged at astonishing rates throughout the 1990s, were suddenly experiencing sharp declines.
With a sluggish economy, millions of people without jobs and a current deficit of more than sixteen trillion dollars, it is no wonder why programs in foreign language education in this country are suffering severe cuts, and why many are simply vanishing.
In taking a closer look at elementary foreign language programs, it is common knowledge that schools who offer them are viewed as being progressive.  In fact, these types of programs add value to a community. Furthermore, a school that is able to tout a K-12 foreign language program serves as a favorable selling point to prospective families who might be thinking of moving into a particular area.  However, if funding is scarce, then how might a school go about offering such a program?  The answer: outsourcing.
Businesses in the United States have been doing it for years.  They move their operations to countries like Mexico, China or India because it is cheaper to conduct business there than on their own turf.  In light of the continuing economic crisis that pervades the United States, schools who understand the value in offering foreign language classes to their youngest students, are searching for alternative methods, and the business model of outsourcing to China appears to be extremely popular, as evidenced by the soaring increase in Chinese programs throughout the country.
Offering Chinese, one of the most challenging languages on earth, because of "emerging economies" is an example of twenty-first century thinking. However, using "emerging economies" as a pretext to outsource teaching jobs, at the expense of American teachers and a slowly recovering economy, not so much.
In Macon, Georgia, the Chinese teachers are being subsidized by the Chinese government, which means that Superintendent Dallemand can hire a Chinese teacher for just $16,000 a year, a mere fraction of what it would cost for him to hire an American foreign language teacher.  But what exactly is that $16,000 buying the students of Macon or for that matter, all of the other students around the country who are learning Chinese from government sponsored teachers?
As foreign language educators and supporters, we understand the true importance of offering foreign languages to children.  However, aside from the cost savings, the question then remains whether it is practical to offer such a complex language to struggling students that may not give them much more benefit, now or in the future, other than to learn about Chinese culture.
In choosing which languages to offer, the main driving force should not be money or lack thereof.  However, for many schools, like those in Macon, Georgia, this may be the only way to afford and implement a foreign language program, especially during these tough economic times.
Choosing the right foreign language program ought to be a decision made after carefully considering the intrinsic nature of a community, the needs of its students and the resources available.  Considering global needs is also important, but as history has demonstrated, those needs can and do change, often unexpectedly.  They should therefore serve as a piece of the decision-making process rather than serving as the driving force behind it because in the long run, it may turn out to be more costly.
In the end, regardless of what one may think about his mandated Chinese programs, Superintendent Dallemand is doing something that we need to see more of in this country; he is acknowledging the importance of foreign language instruction, particularly during the primary years of education, and he is attempting to do something about it.  In making national headlines with his extreme measures, he is spreading the message that no matter what the economic position of a school may be, giving children the opportunity to study a foreign language is crucial and attainable.
If you would like to read more about Superintendent Dallemand, click here. If you would like to read more about why China is not yet ready to take over the world, click here.
What is your viewpoint on choosing the right foreign language program? Share your comments below.