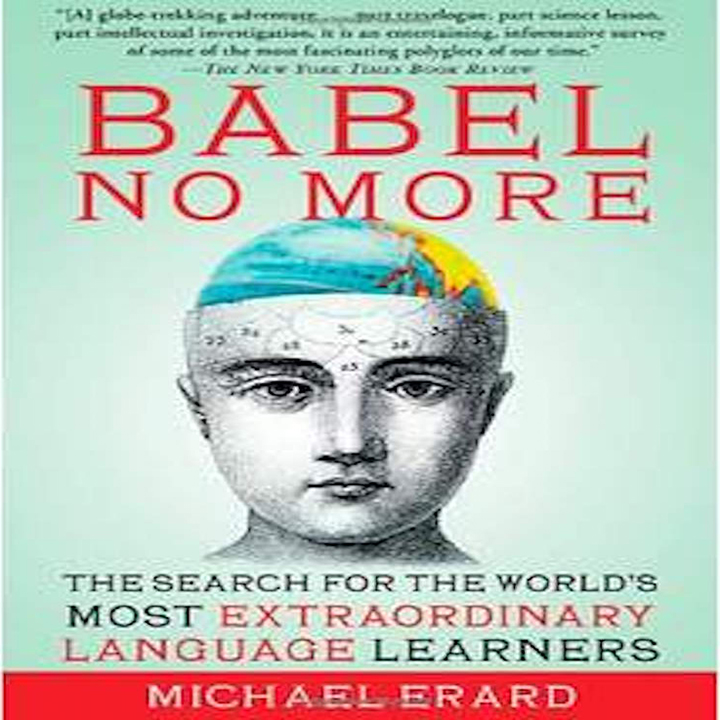 If you are a world language educator, a language aficionado or if you simply enjoy dabbling in neurolinguistics, then  Michael Erard's latest book will definitely satisfy your hunger for the latest approaches to foreign language acquisition. In his quest to find the world's most extraordinary language-learners, Erard unfolds the strange and yet fascinating lives of these unusual people, unveiling their secrets to language-learning success.
Erard, who is a linguist, writer and Dobie Paisano Writing Fellowship Award recipient, traveled throughout the United States as well as to Europe, India and Mexico in search of hyperpolyglots and the people who study them. While Erard defines hyperpolyglots as those people who speak six or more languages, his research focuses on the truly exceptional; anomalies who are able to communicate in a number of languages that range upward of eleven and into the seventies.
In addition to his travels, Erard attracted hundreds of language prodigies through an online survey that he created. He also looked at hyperpolyglot brain slivers and even underwent a brain scan of his own.  As a result, Erard presents a most interesting, informative and insightful look at language-learning over the last two centuries, taking into account its physiological and cultural aspects.
The book begins with Erard's journey to Bologna, Italy, where he pours himself over boxes of personal letters and documentation of Giuseppe Mezzofanti, a nineteenth century Italian cardinal who was known to speak seventy-four languages. Coined as the Monster of Languages by poet Lord Byron, Erard wonders if speaking this number of languages is even possible. Was Mezzofanti real or was he just a myth?  By sifting through Mezzofanti's writings, Erard hopes to determine for himself the veracity of this legend's lofty skills.
Giuseppe Mezzofanti's story serves as the spine of Erard's book, and is carefully interlaced with interviews of current day hyperpolyglots as well as brain and language specialists. Throughout the book, Erard finds answers to the many questions that drive his research, however, he also finds himself generating new questions; questions that do not necessarily have definitive answers; questions that will most certainly fuel future debates.
In one such example, Erard ponders over the environment in which hyperpolyglots live. He wonders whether or not these unique individuals truly possess a gift or if they are solely products of their surroundings: nature versus nurture.  When one examines people like Giuseppe Mezzofanti, it may be simple to conclude that he possessed an exceptional ability, due primarily to the fact that during his era, he would have had limited access to foreign publications. Furthermore, the idea of the internet had not yet been born, so unlimited access to global resources was just not possible.
However, Erard unfolds facts about Mezzofanti that may prove otherwise. It turns out that Mezzofanti's occupation provided for him unlimited opportunities to have regular contact with people from all over the globe. This, combined with his disciplined study regimen, appears to have been a successful blueprint for molding this hyperpolyglot.
For many of the hyperpolyglots that Erard interviews, knowing a language doesn't necessarily mean being fluent or even speaking it, since the brain can only handle roughly six languages at one time. But because there exists an assumption that speaking a language is synonymous with being fluent, the idea of language fluency and what that means precisely becomes another topic for which Erard elicits questions.
There are linguists who claim that fluency suggests that the speaker is capable of moving quite comfortably within the many subtleties and nuances that a language possesses. A thorough understanding of idiomatic and cultural expressions by the speaker may be another indicator of language fluency. Then there are those linguists who argue that one cannot be truly fluent unless he/she has grown up within the cultural context of that language, suggesting that true fluency can rarely be attained.
Erard, on the other hand, proposes that there may exist a relationship between fluency and functionality. In other words, to be fluent does not necessarily mean to possess every facet of the language;  it simply suggests that an individual possesses enough language to satisfy a need.  Erard illustrates this by citing certain tribes in Africa where many of their members claim to speak multiple languages. However, each of those languages serves a purpose, whether it be communicating with family members, ordering meat from the butcher or chatting with friends.  These people move in and out of languages on a daily basis, according to their needs, suggesting that while they may not be capable of maneuvering through all of the subtleties and nuances of each language, their fluency is tied to their survival.
Attached closely to the notion of fluency is native-like ability. What exactly does this mean and how can it be measured?  Erard concludes that, similar to the idea of fluency, it signifies different things to different people and it really depends on who you ask.
Throughout his book, Erard's mission is to not only find the most extraordinary language learners, but to discover their secrets to learning languages effectively by observing their habits.  As a result, he identifies a few common characteristics of hyperpolyglots. First, he suggests that they tend to be introverted individuals who analyze languages, seeking patterns that will help them to create meaning which ultimately facilitates their own language learning.  He also notes that they are open and attentive individuals who are aware of their surroundings and, that they are highly disciplined, adhering to strict regimens that allow them to maintain and grow their language skills.
That being said, Erard returns us to the nature versus nurture debate as he speculates about brain plasticity, or the ability for the brain to easily absorb languages. Does the brain of a hyperpolyglot possess a special neurological capability to learn languages with ease or does the exercise of learning languages make the brain more plastic?
According to his research, Erard concludes that at this time, the evidence does not support one notion over the other. Nonetheless, with the advancement of both, technology and brain research, scientists and linguists together have established the locations in the brain where learning takes place.  This in turn has provoked more studies that will hopefully provide some definitive answers in the future.
Before the conclusion of the book, Erard provides detailed tips, based on his findings, that could facilitate language-learning. Ingesting caffeine, for example, or shouting words while moving one's arms are a couple of his suggestions. Chewing gum, something that teachers, like myself, strongly discourage in class, even made the list.
For Michael Erard, his book ends where it all began; in the Archiginnasio Public Library in Bologna, Italy, sifting through the many boxes of Guiseppe Mezzofanti's possessions, searching for stellar clues to his astonishing aptitude. Does Erard deliver? I believe so. Will you be utterly surprised? Yes, as this discovery is a simple language-learning method that has been used for hundreds of years by many a language educator. I am not, however, going to spoil your journey by revealing the secret here. You will have to pick up your own copy and find out for yourself.
One final note, this book is an easy read, as Michael Erard possesses a gift for simplifying the complex scientific jargon that is normally associated with detailed brain research. He takes a simple globe, for example, and equates the various regions of the brain to the locations of corresponding countries. How clever!  Overall, Babel No More: The Search For The World's Most Extraordinary Language Learners, is engaging, interesting and definitely informative, and I highly recommend it to anyone who is interested in teaching or learning languages.